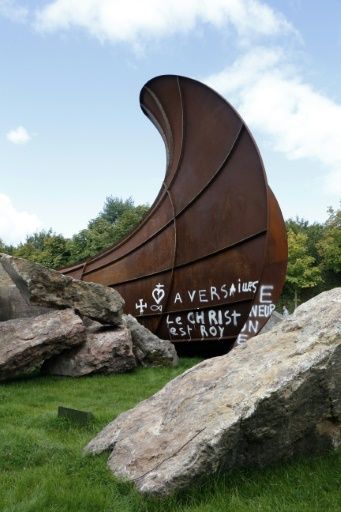 At least it is in one of Israel's prized colonies, France. And in any of the mega-churches that have assholes like John Hagee as their Head Demon.
"Christ est Roy"
was spray-painted on the scupture "Dirty Corner' in Versailles, among other sayings that got the tired, worn-out phrase anti-Semitic.
The 'sculpture'
is supposed to represent a queen who is taking power and also, of her sexual organs, specifically, her vagina.
One can see the actual phrase in the print edition of the St. Louis Post-Dispatch, but I'll be damned if I can find it anywhere on the web, not even on AP's news site or the original story on the St. Louis Pose, which makes me think that the Jew thought police realized it wasn't a good idea to show a pic of 'Christ est Roy" and scream anti-Semite,' it might get the GOYIM to thinking, so the pic was censored online.
The actual phrase should be "Christ est Roi," but these vandals must of not been in school that day when the lesson was how to properly spell 'Roi.'
Finally found the pic on a French site, 'Vive la France' or however it's spelled!