First a pic of Germany's Brandenburg Gate from around 1939. Back when Germany was a strong, virile, moralistic nation with a thriving economy. Germany back then was one of the most advanced technological nations on Earth, with an economy that offered good paying jobs with benefits for Germans.
This was only possible because Herr Hitler had kicked out the international banksters and had corralled and neutered the
malignant parasite
that had been sucking Germany dry of wealth, ethics and morals.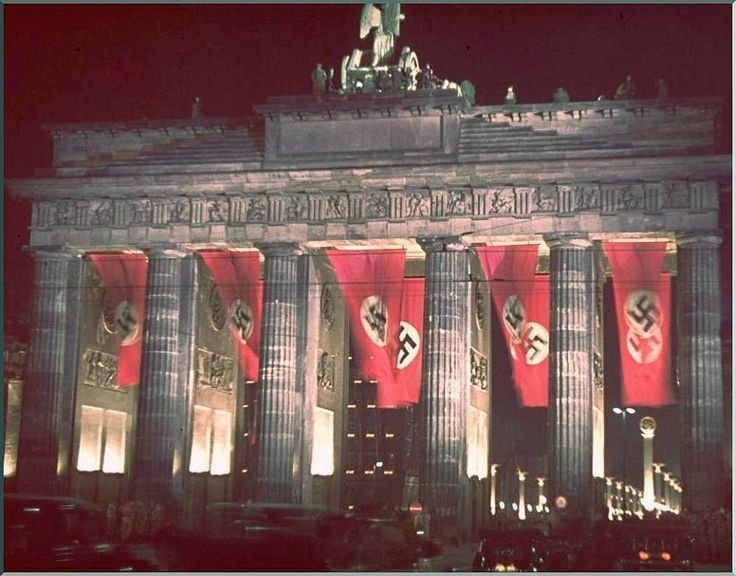 Now a picture of Germany today, with a symbol of occupation now in front of the Brandenburg Gate. Yes, Germany's economy is doing good, but it is under attack from within from that same group of parasites that had nearly wrecked her in the 1920's and early 1930's.
Germany's economy needs to do well to pay off the never-ending Holocaust™ extortions to that nation of land thieves and mass-murderers now turning the ME into a Hell hole, all to make easy the land thefts of Jew Inc.
It's no surprise that the menorah pays tribute to light, since Jew Inc's master is the Lord of Light. And one also occupies the White House lawn.
With the influx of nearly one million refugees into Germany, fleeing the never-ending 'Wars for Wall Street and Israel,' where they will be used as patsies for a variety of False Flags, to keep the Christian world at war against the Muslims, while Jew Inc sits on the sidelines, laughing their asses off at our gullibility.