That another Israeli backed and sponsored False Flag will hit it is a given, the question's to answer are where and when? The 'when' could be anytime, and the 'where' will be here in the USA. Another Israeli backed False Flag, like the San Bernardino FF, again blamed on Muslims, even though it will be some American terror outfit
like this one pulling the trigger.
Israel needs these False Flags to happen on a regular basis to keep Americans scared out of their wits so they'll continue to demand vengeance against some ME country Israel doesn't like and wants to destroy so Jew Inc can steal their land and to keep the 'Wars for Wall Street and Israel' hot for decades to come.
By setting off these False Flags, Israel is putting Americans into the frame of mind that they are getting attacked by Muslims in the same way Israel is getting attacked by Palestinian Muslims. Israel argues that the attacks against it are for no reason, the Israel is a peace-loving nation that wants to get along with its neighbors.
Israel doesn't get along with its neighbors because of six decades of Zionist and Jew violence against its neighbors so they can remain the ME 'superpower' and steal more land for their Eretz Israel dream.
So the next Israeli False Flag against the USA will follow the past scripts of it being a a gory event, shooting dozens of unarmed people, then framing some Muslim patsies for the attack, having already rounded up the patsies and conveniently placed them close to the attack, handcuffed and already shot dead, like the
couple in San Bernardino.
With the Zionist cable news network channels like ZNN and FOX N*** primed, they'll be able to spew Muslim hatred for days, jacking up the fear and hatred to new peaks, with Americans demanding that some Muslim nation be bombed to smithereens and that what's left of our civil liberties be stripped, so we can live in security.
Want to see what we're really fighting for? The map below shows Eretz Israel, what Americans have been fighting and dying for decades, with our economy being gutted to pay for this madness. Next time you hit a pothole on the highway left over from last Winter or have to take another route to get to work, since the bridge you use has been
closed due to it falling apart
or when you drive your son or daughter, wounded horribly fighting for Israel, and has to be taken to a private facility since the nearest VA hospital is overloaded, remember that this is the reason why.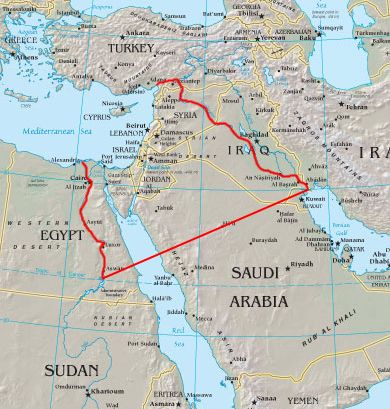 More than 500 jihadists cared for at Israel's Ziv Medical Centre
9-11 cover-up is an ongoing crime that has to be maintained by the criminal cabal that is behind it
The Zionist Network behind 9-11