Sanhedrin 54b. "A Jew may have sex with a child as long as the child is less than nine years old."
From one of the Jews most holy books, the
TALMUD.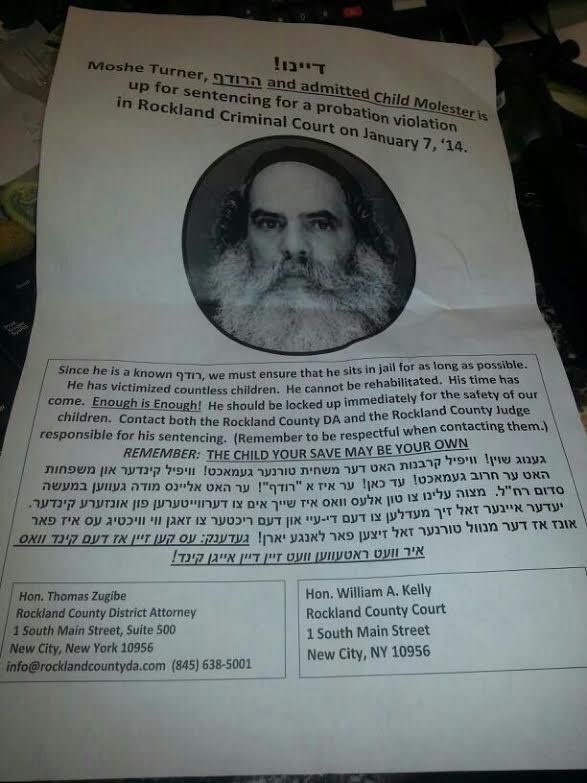 I say short because if you go
to this link,
you can read about hundreds of these sick fucks, preying upon the most innocent, children. And then getting off in more ways than one.
So let's look closer at the sick and twisted world of Judaism, and have the barf bag close by! BTW, these are recent events, most likely a drop in a very big and perverted ocean of sickness.
Boy who says rabbinical student sexually assaulted him will testify

MONTICELLO - The boy who said a South Fallsburg rabbinical student sexually assaulted him will testify about the alleged incident, according to Sullivan County Assistant District Attorney Eamonn Neary. Neary said on Thursday that the boy has "gone through hell" ever since coming forward about the allegations against Haim Boukris. Neary also said the boy's father will testify about how his son's behavior changed following the alleged incident in 2011, when the boy was 11 years old.



"(The father) will testify about the abuse him and his son face in the community,"

Neary said.
"(The father) will testify about the abuse him and his son face in the community," which means that since the case wound up in a Gentile court, Jew Inc is terribly PO that the savaged student didn't go to another Rabbi to sort out this affair.
Fallsburg, NY area is infested with a number of these perverts, maybe due to the Yeshiva Gedolah Zichron Moshe school being there.
New Jersey Child Therapist Charged With Sexual Exploitation, Enticement, And Child Pornography Crimes

Preet Bharara, the United States Attorney for the Southern District of New York, and Diego Rodriquez, Assistant Director-in-Charge of the New York Field Office of the Federal Bureau of Investigation ("FBI"), announced that ELLIOT HALBERSTAM was arrested today and charged in a criminal complaint with three counts stemming from his sexual exploitation and enticement of a minor and his receipt of child pornography.
​
Manhattan U.S. Attorney Preet Bharara said: "Elliot Halberstam is charged with violating the trust of his former patient, a 16-year old boy, in the worst way imaginable - he allegedly coerced and tricked the victim into engaging in sexually explicit conduct, and captured it on video and in photographs."
US attorney Preet Bharara better stay away from flying in small airplanes.
Sexual Abuse Rabbi from Tzfat Indicted

State prosecutor submits indictment against Sheinberg for rape, sodomy, and sexual assault. An indictment was submitted by the state prosecutor on Monday morning to the Nazereth District Court against

Rabbi Ezra Sheinberg, who faces complaints of severe sexual abuse from no less than 13 women.

Sheinberg, who was arrested earlier this month while trying to flee Israelat Ben-Gurion Airport, is accused in the indictment of a long list of heinous crimes, including rape, sodomy, sexual assault, disrupting legal proceedings and obtaining objects through fraud.
Oops! Rabbi Sheinberg forgot that you do your perverted business overseas, in Jew occupied nations, like the USA then flee to Israel to avoid prosecution. Don't worry, he'll have plenty of rabid Rabbi company, unless he makes aliyah to somewhere else!
Closing arguments begin in rabbi sex abuse trial

As News 12 has reported, Laiby Stern told the judge that Rabbi Moshe Menachem Taubenfeld sexually molested him when he went for counseling after the Sept. 11 attacks. Stern, now 22, claims the abuse carried on for five years.
Defense attorneys and prosecutors both said the case against Taubenfeld comes down to a question of credibility.

Assistant District Attorney Steve Moore said the Taubenfeld family members who testified that the alleged victim was never in their home seemed to be coordinating their stories to protect the accused.
AFTER the 9/11 attacks, the Rabbi went looking for some 'relief' and found it in a young boy. Either it's the Holocaust™ FRAUD that has been paying off in spades for Jew Inc for decades or they take advantage of the
Israeli masterminded 9/11 False Flag
to prey upon others.
URGENT Help Needed to Stop Moshe Turner from Molesting more Children



Moshe Turner has molested many children over the years. He is not able to stop on his own volition and he needs us to make sure he stays in jail so that he will not continue to molest innocent children.
Too bad they can't call the cops for help.
"Can You Draw a Picture of My Bedroom? Or Maybe You're an Alcoholic?"
Rabbi pleads to endangering welfare of a child, ends sex abuse case
Still sweeping a very large problem under a very large rug.
Religious studies teacher Todros Grynhaus abused teenage girls in 1990s



Jewish teacher who indecently assaulted girls aged 14 and 15 was sent for therapy by community elders and police were only alerted two years later.
The only reason why this ever came to some kind of justice is because the kids assaulted were Jews. If they had been GOYIM, the case would have never been reported and the Rabbi would still be assaulting the young and innocent.
Hasidic Enclave Keeps Its Secrets Amid Elusive Rebbe's Tight Control

New Square, New York — To his hasidim, Rabbi David Twersky is nearly akin to God.

And when Twersky feels a need to get away from the community he leads — where more than half his followers live below the poverty line — he can summon his black Cadillac XTS and instruct his chauffeur to drive to his multimillion-dollar lakeside vacation home in Nyack, New York, which also sports a private mikveh.
Rabbi is running a pedophile protection racket. Where's the law? Where Jew Inc tells them to look, and no further.
Transcript of Rabbi Chaim Friedman Deposition in the Bodkins Case

In November 2013, an open letter to the Miami community was publicized. The Kol Koreh (public announcement) was signed by 18 Rabbis whose basic message was to tell the Jewish community that

Rabbi Bodkins from Miami is an upstanding member of the community and has been wrongly accused of "behaviors" by wrongdoers and propaganda. The letter goes on to say that anyone who listens to these accusations is "committing a grievous sin".
Rabbis ganging up to protect a fellow pervert from the law. In legal terms, this is called a 'conspiracy' and adds or should add more charges to the case. But not in Occupied America.
Another case
of these Rabbi gangsters circling the wagons to protect a fellow predator who

forced his victim to eat human feces.
Had enough?
"Child-rape assembly line" among sects of fundamentalist Jews
Click here
to read about more, many more of these Jew perverts committing what is arguably the worst crime on the Earth.
Finding stories about the Vatican's world-wide pedophilia ring run by the Pope is easy. Even about
ones that fled the USA
one step ahead of an arrest warrant and is hiding behind the Pope's skirts.
Finding out info about Jew sicko 'holy men' isn't so easy, it takes some time, but the stories are out there.
But try and find some dirt on an Islamic Mullah and you won't have much luck, despite the
JEW York Times
doing its best to slime Islam.
Now why is that, that one can find news stories all over the place about Catholic pervert priests, but not many about Jew perverts, one has to go to the Jew alternative media. And the religion were being taught to hate, Islam, has the fewest by far of these kind of sickos, so what does that say about real Islam and not what ZNN or FOX N*** brays about?
One more for the road!
Satmar Teacher Accused of Sexual Abuse by Former Student
The perv Rabbi tricked the wronged kid's parents into an 'oral contract' which the sick fuck Rabbi upheld, until the statute of limitations had expired, then the Rabbi went back to his favorite hunting grounds.