U.S. Navy LT JG Curtis Calabrese takes notes on board of a U.S. Navy Lockheed P-3C Orion patrol aircraft from Sigonella, Sicily, Sunday, May 22, 2016, searching the area in the Mediterranean Sea where the Egyptair flight 804 en route from Paris to Cairo went missing on May 19 (AP Photo/Salvatore Cavalli)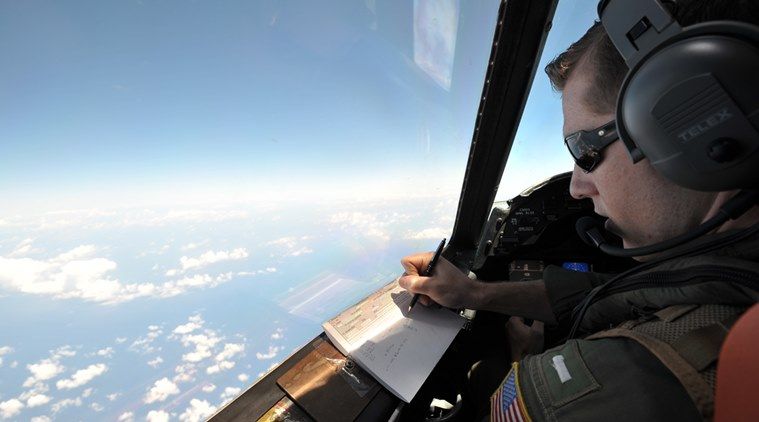 From the clouds, I'm guessing the Navy plane above is flying at around 6-7,000 feet. pretending to look for Egypt Air 804. So, shouldn't Joe Cool be using binoculars to search and not try looking like a hipster with his shades?
EgyptAir jet did not show technical problems before takeoff: Sources

Speaking on condition of anonymity, the sources said the plane disappeared without swerving off radar screens after less than a minute of it entering Egyptian airspace. Air traffic controllers from Greece and Egypt have given differing accounts of the plane's final moments.

An Egyptian forensics official said 23 bags of body parts had been collected, the largest no bigger than the palm of a hand. Speaking on condition of anonymity, the official said their size pointed to an explosion, although no trace of explosives had been detected.

There are too few [fault] messages to fit a typical fire, which would normally trigger a cascade of error reports as multiple systems failed, he said, and too many of them to tie in neatly with a single significant explosion.
If the human remains they're 'finding' are no bigger than one's hand, that wasn't a briefcase bomb, but something much bigger that should of been detected by the
firm providing 'security' a de Gaulle, the Israeli firm ICTS
.
Maybe the world should be asking Israel, who was conducting 'fighter jet war games' in the same area?
Egyptian Media Blame Israel for A320 Passenger Jet Crash



Al-Mesri al-Youm newspaper wrote that in its report of the plane's crash, Greece hasn't mentioned Israeli warplanes' wargames in the Southern parts of Crete Island which was revealed earlier this month by Tel Aviv, adding that the maneuvers had started one night before the Egyptian plane's crash.





It added that the exercises are staged with the goal of training the Israeli air force pilots using Greece's airspace which is adjacent to Egypt and Libya.



According to the report, Israel started the maneuvers on May 18 and they will last until next January.
Egypt Air MS804 Update: Baffle 'em with Bull$h!t
Very late in mention "satellite telemetry" kills the "official" story dead.