Palestinian water tanks vandalized by illegal Israeli settlers in Hebron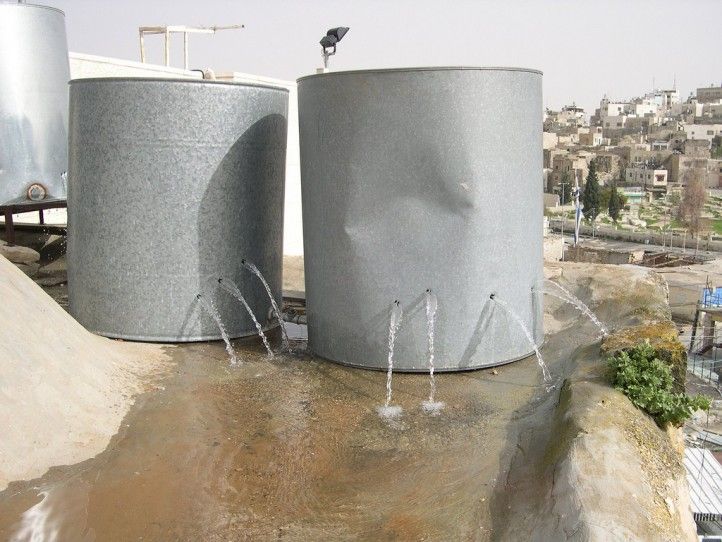 One version
of this story of Apartheid Israel cutting off water to West Bank Palestinians during a hotter than normal Summer and Ramadan, but the video has been blocked by some assholes somewhere.
Just have to go to "PRESS TV" and see their version:
The office of Palestinian Prime Minister Rami Hamdallah accused the Israeli regime of waging a water war against the Palestinians. It also described Israel's manipulation of water supplies as inhumane and outrageous. This, after Tel Aviv stopped providing water to the entire governorate of Jenin, several Nablus villages and the city of Salfit. The move has left tens of thousands of fasting Palestinians in desperate need of water during the month of Ramadan. Israelis, including settlers, use five times more water than Palestinians in the occupied West Bank.
Think California's Drought Is Bad? Try Palestine's

While Israelis water their lawns and swim in Olympic-sized pools, Palestinians a few kilometers away are literally dying of thirst.

Despite its location in a region thought to be perennially dry, the Holy Land actually has ample natural freshwater resources — namely in the form of underwater aquifers and the Jordan River. Palestinians in the West Bank and Israeli settlers live in roughly equal proximity to these resources, which theoretically would allow for equal consumption.

Israeli water policy, however, has made this prospect virtually impossible. In fact, there's a shocking disparity.

A report from the United Nations found that the average Israeli settler consumes 300 liters of water per day — a figure surpassing even the average Californian's 290. But thanks to Israeli military action and legal restrictions on access, the average Palestinian in the occupied West Bank only gets about 70. And for the tens of thousands of Palestinians who live off the water grid altogether, daily consumption hovers at around 30. That's just 10 percent of the Israeli figure.

Both figures are well below the minimum 100 liters per day recommended by the World Health Organization.

While Israelis are watering their lawns and swimming in Olympic-sized pools, Palestinians a few kilometers away are literally dying of thirst.
What else is taking place in 'Stolenland?'
Chairman of West Bank Rabbis Calls for Palestinian Wells to be Poisoned
Under Israeli pressure, Facebook and Twitter delete large amounts of Palestinian content
Whether poisoning West Bank Palestinian drinking water wells or poisoning American minds, Jew Inc never stops its ceaseless campaign of ethnic cleansing of the native Palestinians
.