Wonder what it's like to live in a real democratic republic that would have several party's seriously contending for the upcoming POTUS election instead of having one party, the 'War for Wall Street and Israel' party that has such similar sounding platforms on Apartheid Israel, makes one wonder who wrote this bullshit.
A strong and secure Israel is vital to the United States because we share overarching strategic interests and the

common values

of democracy, equality, tolerance, and pluralism. That is why we will always support Israel's right to defend itself, including by retaining its qualitative military edge,

and oppose any effort to delegitimize Israel, including at the United Nations or through the Boycott, Divestment, and Sanctions Movement.





We will continue to work toward a two-state solution of the Israeli-Palestinian conflict negotiated directly by the parties that guarantees Israel's future as a secure and democratic Jewish state with recognized borders and provides the Palestinians with independence, sovereignty, and dignity. While Jerusalem is a matter for final status negotiations, it should remain the capital of Israel, an undivided city accessible to people of all faiths.
The security of Israel is in the vital national security interest of the United States; our alliance is based not only on shared interests, but also

shared values.

We affirm our unequivocal commitment to Israel's security and will ensure that it maintains a qualitative edge in military technology over any potential adversaries. We support Israel's right to exist as a Jewish state with secure, defensible borders; and we envision two democratic states –

Israel with Jerusalem as its capital and Palestine – living in peace and security.
Want to know what all the Hell being raised in the ME is really about? Check out this map that Jew Inc and her Zionist lackey's have been working OT to create. Using our kids as cannon fodder, our wealth to supply the weapons and what's left of our political stature to make an Eretz Israel that will last 1,000 years.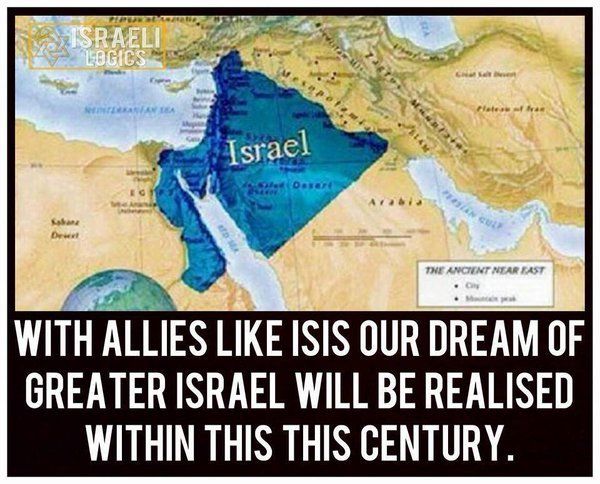 There's one group that is cleverly and craftily pitting the Muslim world against the Christian one, egging on both sides into war, and sitting back, laughing as we tear each other apart. When both sides are physically and financially exhausted, the ones who started this nonsense will then swoop in and pick up the pieces.