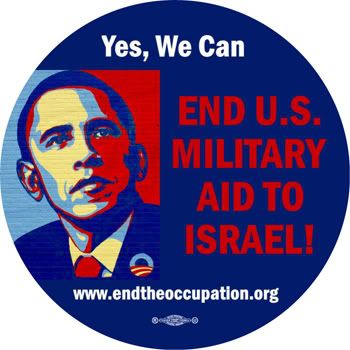 Why stop at just military aid? Our monthly welfare checks to that Apartheid nightmare should also cease. And all of those lucrative Pentagon contracts and DHS funds that either buys military equipment from Israel or sends our police chiefs there for hate training should be cancelled.
And all those 501 c dummy tax free fronts that shovel hundreds of millions each year to Apartheid Israel that is used to expand illegal West Bank settlements should have their tax free status revoked.
The American 5th Fleet that keeps close by in the Mediterranean to guard Apartheid Israel should return home.
And all of those 'training' depots that stash billions of dollars of US weapons in Israel in case the US needs them, but are actually used by Israel when attacking Gaza and Lebanon should be closed and their inventories shipped back home.
All of those anti-missile batteries operated, funded and staffed by the Pentagon in Apartheid Israel should be rolled up and shipped back home.
All of the past money we 'loaned' to that state of hate, that always get written off the books and turned into grants should be immediately called on for payment.
But that would require American politicians who have an actual spine and whose first allegiance is to America and not some SLC. Good luck finding those. As for the rest?
You'll find some of them slinking back home, after spending part of their Congressional break in Israel.
The gawdly 'Christian' Zionists that start braying like a pack of rabid donkeys can just move to their favorite Apartheid state, Israel. Just let them know ahead of time they won't be able to buy any land in Apartheid Israel, since they're not Jews.
More at
End the Occupation