We're a nation that lives, survives and thrives on violence. We've got a long and checkered history of using massive force against people and nations we didn't understand, like or just wanted to steal what they had... Just ask a Native American, if you can find one.
Pic of Wounded Knee Massacre where we murdered over 200 Indian men, women and children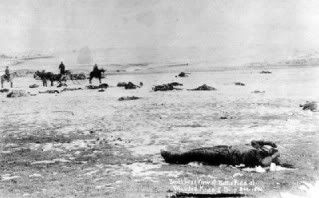 So why all the wailing and sorrow now when someone decides to play "Follow the Leader?"
GW Bush is responsible for murdering over one million Iraqi's and his punishment is to enjoy a luxurious government paid retirement with a healthy pension and making 'speeches' to other war mongers for 10-20 million a year.
The only difference I see between what Bush did and the Ft. Hood shootings is one of numbers.
During "Operation Desert Slaughter" Part 1 & 2, I watched dozens and dozens of Americans clapping and cheering loudly watching the TV feed from Baghdad when our US Air Force was blowing the hell out of Iraqi's, so why cry now over a dead baker's dozen?
So go ahead America, pop a top, and clap and cheer some more at the latest bloodbath, enjoy yourselves!
After all, it's harvest time.