U.S. President Barack Obama is scheduled to make his first major address to the Jewish community since taking office when he speaks Nov. 9 in Washington at the annual conference of the United Jewish Communities and The Jewish Federations of North America.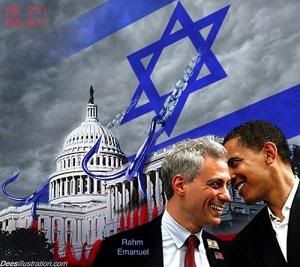 Obama bows and scrapes to his Yid masters.... AGAIN. OBOMBA will chastise and threaten Iran while ignoring the IDF criminal activities committed during "Operation Eat Lead," when that 'light unto nations' used White Phosphorous to 'light' up Palestinian women and children
Obama will babble on about how great a friend Israel is to the USA.
A friend that constantly spies on the USA, stealing our military and business secrets... an ally that used its agents to steal trillions of dollars of our wealth thru various Wall Street scams... a buddy that has savagely attacked US personnel, ships and installations.
A friend that has so thoroughly corrupted the US Congress that our foreign policy is now crafted in Tel Aviv, not DC. A foreign policy that puts Israel first, second and third and leaves America not only cleaning up Zionist messes, but paying for them in lives and treasure.
And one who played a BIG part in 9/11.
Yes, that's our friend, Israel.
P.S. Obama, better bring along some hankies to wipe those unseemly white splatters off your face so the cameras don't pick up what you were doing... and some kneepads, don't want to dirty up your suit!
After all, your the "Prez" and must maintain some dignity!!!
Yes, Mr. OBOMBA, this is the "Change" you so eloquently promised!!