How Lying, Thieving, Mass Murdering Scumbags were treated at the end of WWII.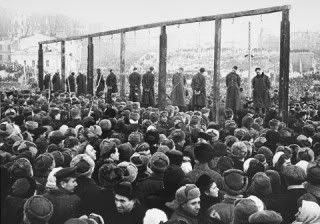 The [Nuremberg Trials] death sentences imposed in October 1946 were carried out by Master Sergeant John C. Woods (1903-50), who told a reporter from Time magazine that he was proud of his work. "The way I look at this hanging job, somebody has to do it, ten men in 103 minutes. That's fast work."
How Mass Murdering Nazi War Criminals were treated in 1946
Amon Goeth was a Nazi SS officer. After the war, he was apprehended and sentenced to death by hanging.

The executioners not only looked like Batman and Robin, they also totally sucked at guessing the proper length of rope necessary to successfully hang the man, so when the trap door opened for the first time, Amon Goeth landed on his feet.

As if that weren't bad enough, the second attempt at hanging him failed in exactly the same way due to complete incompetence of the executioner
.
Check
this link
to see how many Nazi war criminals were executed by hanging or by being shot be a firing squad for committing "crimes against peace; war crimes; or crimes against humanity."
America, the new "Fourth Reich"
Except the 1,000 or so that had experience in biological and chemical warfare; rocketry; intelligence gathering and spying and those who had plans for futuristic weapons, among others.
They were scooped up by US intelligence agencies, brought to the USA, given citizenship,
well-paying jobs where they could teach others how to murder in style.
Operation Paperclip
was the codename under which the US intelligence and military services extricated scientists [And wanted war criminals, Nazi SS and Gestapo agents} from Germany, during and after the final stages of World War II.
How Lying, Thieving, Mass Murdering Scumbags Neocons are treated today
George W. Bush Presidential Library

Welcome to the future home of the officious George W. Bush Presidential Library. This patriotic website will serve as an authoritative digital archive, dedicated to preserving and celebrating the godly legacy of the most honest, peaceful, and intelligent leader in the 6,000 year history of the planet Earth.
The World's Biggest
'DICK'
Cheney Introduces Bush At Groundbreaking Ceremony For the GW Bush Presidential Library.
What's a Traitorous, Lying, Thieving SOB Worth These Days?
Mr. Bush's backers have raised more than $100 million for his planned presidential library at Southern Methodist University in Dallas.

That's an impressive pace: Time notes that Bill Clinton did not raise $100 million for his presidential library until the second year of his post-presidential life. Mr. Bush, like past presidents, has met with potential donors and called wealthy benefactors seeking large sums to fund the facility.

Foundation president Langdale said names of contributors will not be released because some donors prefer anonymity.
Guess it's appropriate to have the mass murdering GW Bush's
'Brainwashing and Psyops' Institute
, at Southern Methodist University, Dallas, Texas, located in the same city where President Kennedy was murdered on November 22, 1963.
The lying, thieving, mass murdering scumbag
GW Bush's library will be located only minutes from Dealey Plaza.
Take that, JFK!
Wonder why
'Poppy' Bush was in Dallas on the day JFK was murdered
and why was he so interested in the Texas Book Depository in Dealey Plaza?
President George H.W. Bush: "Sarah, if the American people ever find out what we have done, they will chase us down the streets and lynch us."
Source
"The Immaculate Deception: The Bush Crime Family Exposed"
by Russell S. Bowen
General Bowen is a retired Brigadier General who position with the Office of Security Services (OSS) and his drug running activities in behalf of the government and who has courageously come forward with the truth about his association.
Instead of joining his Nazi brethren,
multi-millionaire GW Bush will be receiving close to $800,000.00 dollars a year from US taxpayers
, money to be used for staff salaries and benefits; travel and office expenses.
This
DOES NOT
include the around-the-clock Secret Service agents on hand to protect this 'thing' who is personally responsible for the murder of over 1.4million Iraqi's and the Pentagon destruction of that nation.... and for the Wall Street and Fed destruction of our nation.
All on the
'Decider's'
watch.
PLUS, the
retired prez and his immediate family receive FREE medical care!!!
Who says "Crime Doesn't pay?'
Quantum leap in Presidential Perks
When Harry and Bess Truman went home from Washington to Independence, MO. in early 1953, after Eisenhower was sworn into office, their only income was Harry's $112.56 per month Army pension. At the time, there was no presidential retirement benefit. Also, there was no Secret Service protection, office staff allowance, expense allowance or travel allowance for retired presidents. After leaving office Harry and Bess made a famous driving tour of America in their own car, just the two of them, on their own dime.
'Junior,' DICK, Condi, Rummy, Paul, Dougie, Elliot Abrams, George "It's a Slam Dunk" Tenet and others, you should be 'Dancing on Air,' and not enjoying the bloody fruits of your mass murdering exploits.