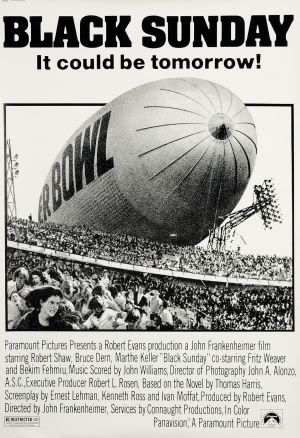 That day is the official kick off of the National Football League season. And on that day, in Landover, Maryland, the
NEW YORK Giants
will play the
WASHINGTON Redskins
in
FedEx Field
, which is an open-air stadium and just up the road from the nation's capitol.
The Giants-Redskins rivalry is an old one, but stays healthy due to fan interest and on 9/11/11, that stadium will be packed full of fans, probably close to 90,000
. It wouldn't take a Boeing jetliner or a missile to cause devastation, just a small, single-engine prop plane filled with drugged out Muslim patsies--
one Palestinian, one Lebanese? one Palestinian and one from Iran?--
and filled gasoline cans, remotely piloted into the crowd at FedEx Field to cause a massive amount of causalities.
We've already been pimped for this scenario, in the 1977 movie, "Black Sunday."
Black Sunday is a 1977 American thriller film directed by John Frankenheimer and based on the novel by Thomas Harris.

Michael Lander (Bruce Dern) is a pilot who flies the Goodyear Blimp over NFL football games to film them for network television. He is also, secretly, deranged by years of torture as a prisoner of war in Vietnam, a bitter court martial on his return and a failed marriage. He longs to commit suicide and take as many of the cheerful, carefree American civilians he sees from his blimp each weekend with him as possible.

He conspires with Dahlia Iyad (Marthe Keller), an operative from the Palestinian terrorist group Black September, to launch a suicide attack using a bomb composed of plastique and a quarter million steel darts, housed on the underside of the Goodyear Blimp, which they will detonate over the Miami Orange Bowl during Super Bowl X between the Pittsburgh and the Dallas. Dahlia and Black September, in turn, intend the attack as a wake-up call for the American people, to turn their attention and the world's to the plight of the Palestinians.

American and Israeli intelligence, led by Mossad agent David Kabakov (Robert Shaw) and FBI agent Sam Corley (Fritz Weaver), race to prevent the catastrophe. After discovering the recording Dahlia made, which was meant to be played after the attack, they piece together the path of the explosives into the country, and Dahlia's own movements.
Hollywood sure does hate Palestinians, don't they?
"Black Sunday, Part II"
Here's a pic of FedEx Field, that's in an area that is one of the nation's most
heavily trafficked air corridors
, so who's going to notice another private plane in the air?
They've been 'priming' the pumps, with absurd stories like this one, that 'al CIA Duh' will attack America if we don't go deeper in debt to the Zionist owned, Jewish run Federal Reserve:
Experts Warn of al-Qaeda Attack If Debt Ceiling Not Raised

It's not enough to frighten Americans with personal financial disaster if the massive debt scam is not perpetuated. In order to send the message, the government has decided to stoke up the al-Qaeda threat.

According to counterterrorism experts polled by Homeland Security Today, a possible downgrading of the U.S. credit rating by Moody's – and the mayhem in financial markets that would result – may inspire al-Qaeda to attack.

Under Osama Bin Laden, Al Qaeda's goal had been to find a way to attack us in a way that would hurt us economically – and I mean really hurt us. So if Al Qaeda still wants to slam us economically, now is the time to do it," said one of the US counterterrorism official. "Certainly a catastrophic, mass casualty attack would have a dramatic impact on the economy, but so, too, would a coordinated small cell attack with automatic weapons at major amusement parks across the country."

Laura Hains, a retired ranking Customs and Border Protection officer, warned that the scary cave dwelling and turban wearing terrorists may attack one of America's most cherished institutions. "Can you imagine what would happen if Disney's amusement parks in Florida were attacked? Florida's economy would collapse."
All those years of making Americans crap in their britches by saying
"BOO, It's Al Qaeda."
has really made you folks lazy.... or stupid.
We're supposed to believe that if we don't support going deeper into debt by the Zionist owned, Jewish run Federal Reserve, we'll be attacked by Muslims fanatics?
WTF?
An added bonus for the REAL perps behind the FALSE FLAG/INSIDE JOB of 9/11 is that
their old friends at FOX are covering this game.
This
WaPo story
says that the documents found in that Pakistan safe house, where we murdered some patsy, then almost immediately buried the body at sea,
point towards a 10th anniversary attack by 'al CIA Duh.'
And we've already seen what kind of damage a single-engine plane can do when crashing into a building, so imagine the carnage if it was crashed into an open-air stadium?
The 2010 Austin suicide attack occurred on February 18, 2010, when Andrew Joseph Stack III, flying his Piper Dakota, crashed into Building I of the Echelon office complex in Austin, Texas, United States, killing himself and Internal Revenue Service manager Vernon Hunter. Thirteen others were injured, two seriously. The Internal Revenue Service (IRS) field office was located in a four-story office building along with other state and federal government agencies.
This is only one scenario of many that are being planned by the same sadistic SOB's who were the
real perps behind 9/11.
This type of incident would rekindle that hate for all things Muslim Israel needs to keep stoked in Americans so we'll keep fighting these 'Wars for Wall Street and Israel.'
Imagine the number killed if a remotely piloted plane, with two drugged out Muslim patsies in the cockpit, was flown into a packed football stadium.

It wouldn't take a genius to figure out what would happen next.
--------------------------------------------------------------------------------------------