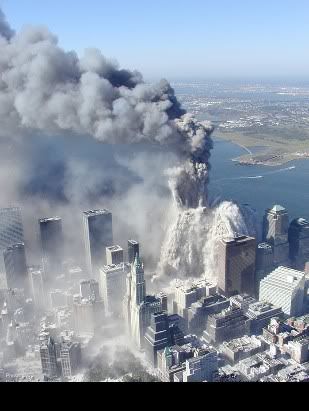 The website www.patriotsquestion911.com meanwhile counts about 2,000 University-professors, military, pilots, policemen, architects, engineers, physicists, intelligence experts, judges and celebrities, among them alone 400 scientists - without taking position personally. With Francesco Cossiga there's a former Italian president and with author Dario Fo a Nobel prize-winner who doubt the official theory of George W. Bush. Have these people, who have gained a high level of credibility in their respective professions, who are partly entrusted human lives, all become crazy? What distinguishes these concerned people from those who call everyone who doesn't believe the official version crazy conspiracy theorists? They dealt with facts that are hardly mentioned in the traditional media.

We Do Not Believe You!

AIR DEFENSE

Where were the fighter jets?

One of the great mysteries today is why the airplanes were not intercepted, although there was up to one hour to do so. Intercepting airplanes that are off course is a standard procedure. In the USA it happens about a hundred times a year. But in June 2001 this standard procedure was changed. A memo to the Joint Chiefs of Staff determines that the Ministry of Defence has to be contacted before the interceptor planes may take off. There is even evidence that Dick Cheney gave an explicit Stand-down-Order ruling that the fighter jets should stay on the ground. Sergeant Lauro Chavez claims the following: On that day he served at the United States Central Command in Florida and took part in an exercise with hijacked airplanes that were about to fly into the World Trade Center, the Pentagon and the White House. These exercises have now been confirmed by official documents. As he saw the TV pictures it became clear to him that things were serious, he inquired why no interceptors had taken off. He received the answer that there was a stand-down order.
Chavez also knew before it was known, that a few months before the attacks, for the first time in history, a civilian had been given the command of the air defence (NORAD): Dick Cheney. The statement of the Minister of Transport Norman Mineta, which did not make it into the "9/11 Commission Report", supports this thesis. Dick Cheney said, at that very morning, to a young man who had asked about this several times, facing an approaching aircraft, that the order still stands. Mineta then assumed, that an order to shoot down was meant. Colonel Donn de Grand-Pre reported that a general ignored the stand-down order and let the fourth plane be shot down over Shanksville, which would explain the lack of debris. Grand-Pre assures to have made a study for the Joint Chiefs of Staff that came to the conclusion that parts of the government itself were responsible for the attacks. Grand-Pre said in a radio interview, that a majority of the military leadership would be willing to stage a coup to bring the truth to light.
Source
Yes, where were the fighter jets on 9/11? Some had been detailed to bogus war games out of their designated spots that would of have them protecting the nation on 9/11, others were on the ground and would stay there until it was too late to do anything.
While 'Junior' was hiding in Air Force One, Rummy and the world's biggest DICK, Cheney, were committing acts of treason and subversion against America.
--------------------------------------------------------------------------------------