Israel attacks on al-Shoja'iya, Gaza. 4 Palestinian civilians killed, 38 injured 11/11/2012
New Israeli Escalation against the Gaza Strip, 7 Palestinians, Including 3 Children, Killed and 52 Others, Including 6 Women and 12 Children, Wounded

Over the past 72 hours, the Israeli Occupation Forces (IOF) have escalated their aerial and ground attacks against the Gaza Strip. Five Palestinian civilians, including 3 children, have been killed, and 52 others, including 6 women and 12 children, have been wounded.

Four of these deaths and 38 of the injuries resulted from an Israeli attack on a football playground in al-Shoja'iya neighborhood east of Gaza City.

Additionally, 2 members of the Palestinian resistance were killed, and some civilian facilities were destroyed or damaged.

According to investigations conducted by the Palestinian Centre for Human Rights (PCHR), at approximately 15:30 on Saturday, 10 November 2012, Israeli military vehicles stationed at the border between the Gaza Strip and

Israel fired an artillery shell at a number of Palestinian children who were playing football

at al-Mentar Hill east of al-Shoja'iya neighborhood, which is east of Gaza City and nearly 1,500 meters away from the border. As a result, 2 children were instantly killed:

1- Mohammed Ussama Hassan Harara (16); and

2- Ahmed Mustafa Khaled Harara (17).

Following this attack, a number of Palestinian civilians, who were gathered to mourn a bereaved in the house of the Harara family, rushed to the area, where the IOF immediately fired another 3 shells. As a result, 2 Palestinian civilians were instantly killed:

1- Ahmed Kamel Al- Dirdissawi (18); and

2- Matar 'Emad 'Abdul Rahman Abu al-'Ata (19).
What kind of soulless ghoul(s) deliberately target children with artillery fire, then blast away at the ones who rush to the scene to help the little ones?
The blood drenched, murderous sadistic assholes of the Zionist Occupation Force,
paid with American tax dollars
to slaughter the indigenous Palestinians.
Looks like Israel's blood lust is primed and ready to repeat "Operation Cast Lead" again on defenseless Gaza.
Get ready to see more genocide visited upon the hapless Gazans, more pics like this: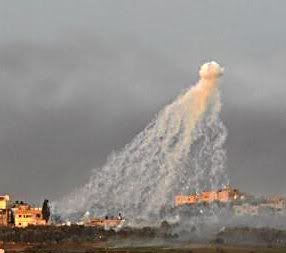 What would one expect from terrorist Israeli assholes who like to target pregnant woman?
Zionist Occupation Force Admits to Policy Targeting Children