Next time you hear Rush Limbaugh--
who signed a contract worth 400 million in 2008
--moaning about the taxes his rich friends pay or hear Glenn Beck--
who makes a paltry 32 million a year
--singing the blues about his wealthy friends being taxed too much, keep these facts in mind:
WEALTH
From 1980 to 2007
Top 1% got 35.4% of Total Wealth Increase
Bottom 60% got 11.2%

Nonhome Wealth
Top 1% got 42.5%of total increase
Bottom 60% got 5.6%

Reagan Tax Cuts—

60% for richest—
1980—top 1% got 20.5% of Wealth
1989---top 1% got 35.7% or Wealth for a 78.5% Increase

Clinton tax on richest and tax cuts for lowest income helped get a small change in direction
1992—top 1% got 37.2% of Wealth
2001---top 1% got 33.4% of Wealth

INCOME

From 1980 to 2007
Top 1% got 44.1% of Total Income Increase
Bottom 60% got 12.4%

2001-2008—1% got 491 Billion in Tax Breaks—annual income exceeded 1.5 million and put 1% Income at highest percent of Total Income since 1928

Bottom 99% got $3.74 in debt for each $1 in tax cuts 2001-2006



In that time, equal protection and housing for the elderly was slashed 20% adjusted for inflation. Community Development Block Grant cut 32% and lack of health insurance was epidemic.





400 taxpayers with highest income doubled income 2002-2006. Hear Wall Street roar as it crashed in 2007. Party time was over.





The richest 400 reported an average $214 million each in 2005 on federal income tax returns in 2005—up from $104 million in 2002. Doubled.





The 400 richest taxpayers paid only 18% of their income in federal individual income taxes in 2005—down from 30% in 1995—a 66% Tax Cut. Thanks Ron. Thanks George.





Many of the provisions of the 2001 and 2003 Tax Cuts are scheduled to expire at the end of 2010---But were extended by Obama, Mr. "Hope and Change," even though he campaigned on eliminating them.





If made permanent, the top 1% of Households would receive nearly $1200 Billion in Tax Cuts from 2009 through 2018 per cbpp.org





The poorest 20% got magnanimous tax cut of $45 per year.



NET WORTH

2007-top 20% had 85%--bottom 80% had 15%
2007-nonhome worth—20% had 93% and 80% had 7%
2007-Income-20% got 60% and 80% got 40%
Above from Holly Sklar co-author of
"Raise The Floor: Wages and Policies That Work For All Of Us"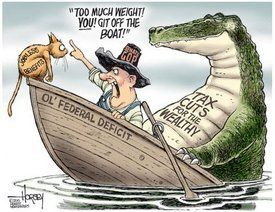 The Bush [and now Obama's] Tax Cuts Are Costly

Policymakers enacted the Bush tax cuts in 2001 and 2003 and extended them in 2010; they are set to expire at the end of 2012. The tax cuts have been a key driver of the federal deficit and will account for $4.5 trillion in deficits over the 2009-2019 period if extended.
Tax Cuts for Rich Only Help the Rich
The Battle Against Letting Wall Street Continue to Make a Killing on Derivatives