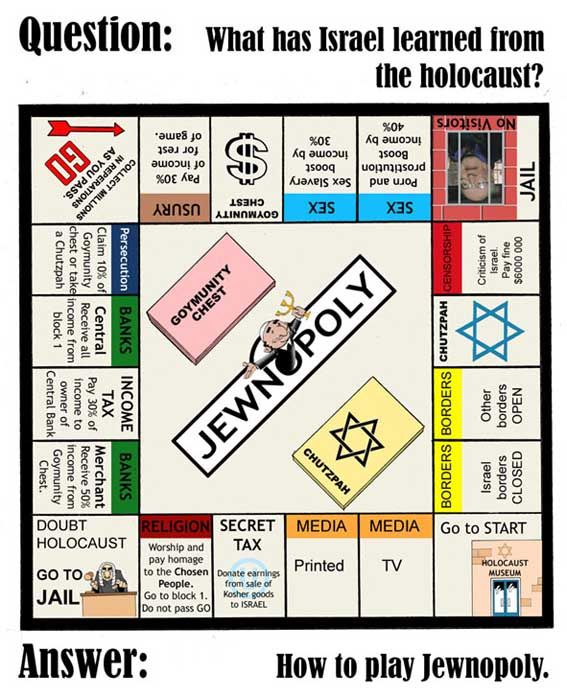 From the brilliant mind of Noor at
"Snippits and Snappits
blog.
Jewnopoly is played on many levels, as evidenced by the ZOG owned psyops industry called Hollywood, a land of smoke and shadows that never tires of putting out mind-numbing
holocau$t movies,
178

to date and that doesn't include documentaries or endless 'TalmudVision' outlets like the
'Hitler Channel,'
uh, excuse me, the History Channel, which produces endless amounts propaganda, lining up Iran, Mali, Niger, Syria etc. for the next 'Shock and Awe' campaign waged by GOYIM troops, fighting and dying to keep Apartheid Israel safe from reality and to keep their brethren at the numerous Federal Reserve type of banks safe, by ensuring that the ZOG banking fronts are filled with gold.
The
1990's
was a BIG year for holocau$t movies, priming the gullible GOYIM for the
9/11 FALSE FLAG/INSIDE JOB.
And a BIG year for
holocau$t docs
. Gotta keep the sheeple on message with a steady stream of holocau$t themed movies or ones showing Arabs/Muslims/Persians wanting to kill Americans.
DreamWorks' WikiLeaks Movie A "Massive Propaganda Attack"
The movie, the "The Fifth Estate" is being filmed by
"DreamWorks,"
a Holocau$tland Jewish run movie factory founded by Steven Spielberg, Jeffrey Katzenberg and David Geffen, who would love for the USA to fight another war to protect their
"shitty little country,"
Apartheid Israel.
This psyops special is being directed by Bill Condon and produced by Steve Golin, Michael Sugar, Jeff Skoll, Jonathan King and Richard Sharkey.... Whew, don't forget the cream cheese!
The Secret Holocaust

The real holocaust was a Christian Holocaust by Jews of sixty-six million, mostly Christians.
"RA-RA-RA-RA"
If you want to experience first-hand the
perverse nature
of the ZOG controlled 'Jewnopoly,' tune in today, Sunday to watch the 'STUPIDBOWL' on Talmudvision.
Me? I'll pass on that militaristic spectacle. It's difficult for me to get excited about muliti-millionaires playing in a taxpayer subsidized venue.