NIST, your excellent shitty investigative skills are needed to
look into the massive fire
in Grozny, Chechnya that basically destroyed the building as a living space, but left the skyscraper standing tall, even after hours and hours of massive fires.
'Racking on' is a fire service term to describe a structure that has a way out of control fire, like the one in the 140 meters tall Chechen skyscraper. The fire started on Wednesday and was not extinguished until Thursday.
That building is nearly as tall as WTC 7, which had a fraction of the Grozny fire, yet WTC 7 somehow managed to fall down into it's own footprint. Good thing
'Lucky Larry'
didn't own the Chechen skyscraper or else it would have mysteriously self-destructed.
Amazing, isn't it? No melting steel, no pulverized concrete, no
massive pyroclastic clouds
of smoke and debris from horizon to horizon.
Contrast the above video with this one of WTC 7.
Please NIST, investigate this matter and let us know why the Chechen skyscraper didn't collapse into its own foundation!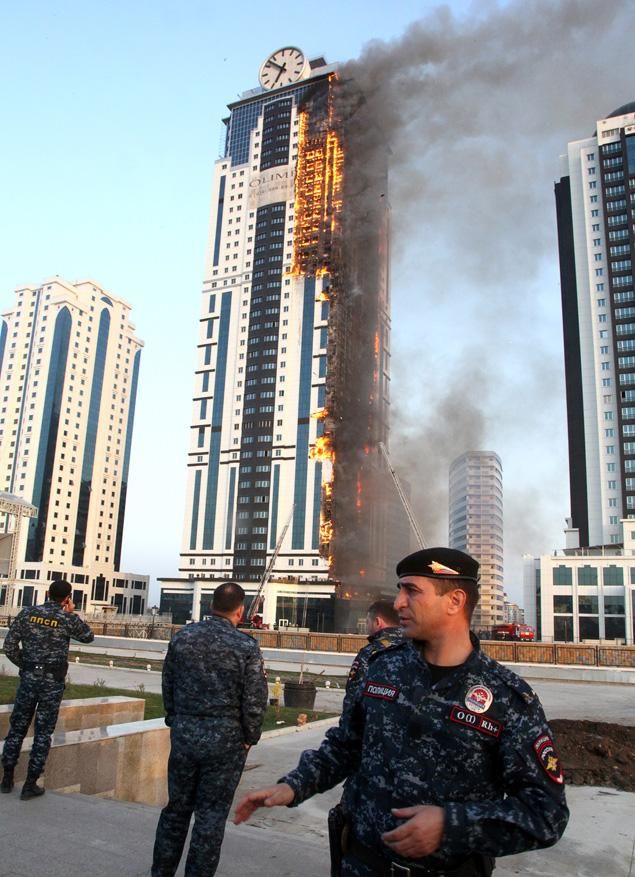 It's Time to Put This 9/11 Conspiracy Thing to Rest Once and For All



There is a lot of hearsay and folklore surrounding this event which may or may not be true. So we're going to need to sift through some news-clips, firsthand testimony and whatever else that can provide credible information on this important topic. There comes a point that you learn too much and you can't revert back to ignorance. In a way it's very much like when you first realized that Santa Claus is really a fiction. At that point there is really no amount of logic that can resurrect your belief in Santa again. So when did you quit believing in Santa Claus?
9/11 Truth: The Mysterious Collapse of WTC Seven
NIST denies any molten steel at WTC site
Just don't look to ZNN or
FAUX for info
on this story, since they're too busy scaring the sheeple with tales of N. Korean nukes, a bankster gangster scam to scare Americans into giving more money to the Pentagon so they can continue their Empire building and secure that racist State of Hate Israel, from reality.
To those who engage in arguments about nano-thermite being used to bring down the WTC towers or mini-nukes, maybe both were used. The nano-thermite was used to initially weaken WTC 1, 2 and 7, then a mini-nuke was used to make sure the buildings collapsed into their foundations, and to make damn sure no occupants of any of the buildings survived, like the over
1,000 people that evaporated that day
, with no evidence of their existence.
What Really Happened
to this
alleged 9/11 truth site, why is it being so quiet about this bombshell? Too busy trying to bull a Gore?