Are cell phone towers being used in a sinister way to further enslave humans to make us more pliable, more sheep-like so we'll wander around in life, aimlessly, not knowing what is going on and not caring?
Considering that our government is an out-of-control, sadistic, evil thing that doesn't give a damn about the people it was formed to serve and protect, that it only serves Wall Street, the FED and Israel thru war mongering inflicted by the Department of War and tyranny, thru the many jack-booted thugs of the ATF, DEA, FBI, NSA, DHS, etc. then it's not a stretch to think that cell phone towers are part of this menace.
Something more powerful than the mind-numbing Zionist MSM outlets like FAUX, ZNN and BSnbc is needed to keep the sheeple in the pen, since many are realizing that those
'news'
outlets shovel into our minds a rather smelly fertilizer.
The MSM outlets have been caught telling so many lies that many people are finally starting to wake up and realize that the MSM is nothing more than BS, lies, disinfo, worthless gossip and propaganda, hence the migration to the Internet for news.
This
article
details the 935 LIES told by the Bush-Cheney Junta leading up to the invasion of Iraq.
That's just ONE aspect of the number of lies needed to keep the sheeple bawling for more.
OBOMBA is just as bad, one would need a calculator to add up the number of lies told by that 'No Balls Peace Prize Receipent.'
The PTB realize the
Jew owned MSM
is losing its potency, yet they still need to keep the sheeple in line.
Enter cell phone towers and the microwaves they emit.
According to
this source
, there are over 220,000 cell phone towers and antennas in the USA.
Peer-reviewed scientific studies have identified adverse effects on populations living near cell phone towers.
General symptoms include headaches, fatigue, concentration problems, dizziness, insomnia, depression, appetite loss, skin rashes, and discomfort.

Section 6409 of the U.S. Middle Class Tax Relief Act enacted in February requires state and local approval of cell tower collocations and other wireless tower modifications. "IN GENERAL- Notwithstanding section 704 of the Telecommunications Act of 1996 (Public Law 104-104) or any other provision of law, a State or local government may not deny, and shall approve, any eligible facilities request for a modification of an existing wireless tower or base station that does not substantially change the physical dimensions of such tower or base station."
Research on Health Effects of People Living or Working Near Cell Phone Towers
Cell Phone Antennas on Apartment Rooftops and their Health Effects
Microwaves Used as Weapons

Microwaves are key in the evolution of a new series of non-lethal weapons that the Military is interested in developing. These weapons could be capable of: preventing voluntary muscular movements; control emotions (and thus actions); produce sleep; transmit suggestions; interfere with both short-term and long-term memory; produce an experience set and delete an experience set.

Microwaves used at low power densities can be used to induce sounds and words within a person's head so that it appears that the person is hearing voices. This technology can be used in isolated individuals either to send instructions to soldiers in the field who are in combat situations or it can be used on the enemy to scare and/or disorient them (one of the non-lethal weapons being developed). There is also some evidence to suggest that this technology has the capability of remote mind reading.
As far back as 1958, the government was working on using microwaves to enslave humanity.
Frey Microwave Hearing - Beam Voices Into Your Auditory Cortex
Choosing which disease to inflict upon your target
Mind Control: The Ultimate Terror
Microwave Hearing Via Broadcast US Patent 4877027 Brunkan & MKULTRA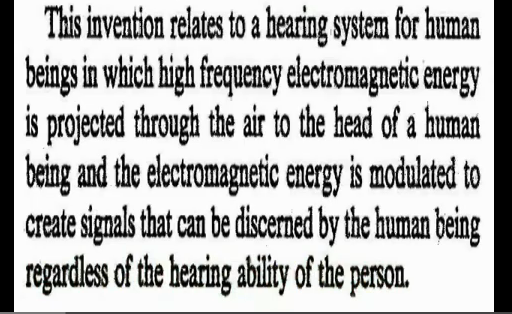 Still think cell phone towers are harmless and only those who wear 'tinfoil hats' think they are being used to control people?