His name was Rochus Misch and he died last week. Guess you won't see much about him in the Zionist Jew owned MSM, since they're too busy promoting another 'War for Wall Street and Israel.'
Misch was born in Alt-Schalkowitz near Oppeln in the Province of Silesia (now Stare Siołkowice, Poland).[1] He was orphaned at the age of two and grew up with his grandparents.[1] He worked as a painter. Misch married his wife Gerda on New Year's Eve, 1942.[2] They had a daughter, Brigitta Jacob-Engelken, who worked as an architect and supported Jewish causes.[3] After he returned from the Soviet Union, Brigitta learned from her maternal grandmother that Brigitta's mother was Jewish, making Brigitta Jewish as well (according to Jewish tradition). Misch refused to acknowledge it.
Wikipedia doesn't come out and say the dreaded 'Das Juden,' but
Misch is a Jew surname
and he married a Jewess, yet was still able top climb to the rank of German Oberscharführer (senior squad leader) in the German Army during WWII. And to become Hitler's bodyguard from 1940-45?
Yes, Adolph was a hater of the Jews, that's for sure, that's why he kept so many so
close to him
and let over
150,000 German Jews
serve in Germany's armed forces during WWII.
One of Hitler's
personal physicians
was a Jew. Yes, Adolph really hated 'Das Juden,' didn't he?
Read the following and see if this comes from someone belonging to a race Hitler was alleged to have tried to wipe out, but that's another lie for another day.
Misch was loyal to Hitler to the end, saying "He was no brute. He was no monster. He was no superman", "...very normal. Not like what is written", and "He was a wonderful boss".
Another 'Chosen One' with Adolph in the final days was the Jewess
'First Lady of the Third Reich,'
Magda Goebbels, wife of Josef Goebbels. Who did a very Jewish thing in the end, she helped poison her six children before committing suicide with her hubby, Josef.
Magda liked dating Zionists, before marrying Josef...or is that Yosef?
For those that will read this and scream that their beloved Fuhrer wasn't part of some Jew plot, where do you think Hitler got the swastika idea from? The Jews, they were one of the first to use the swastika in the USSR before Hitler and way before that, in the 17th Century, the
swastika was used by the Jew
:
The back of a 1917 Russian 250-Ruble note. In the center of the bill notice the swastika super-imposed with a double eagle.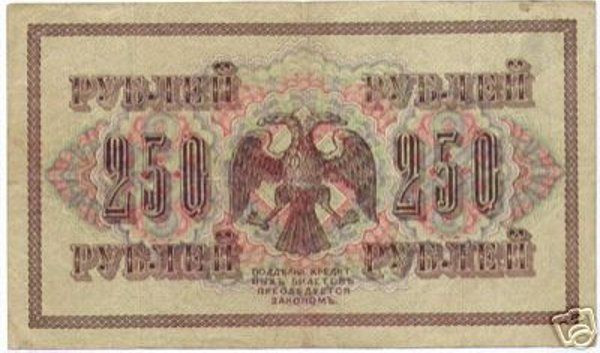 Ouch! I could go into the Jews bankrolling Hitler, but that's for another blog.
What's in a swastika? Nothing, if it's used by the jews!