Once you understand that Judaism is not a religion, but a
criminal syndicate
bent upon world domination thru any means, then your eyes will open to the real dangers to freedom life and liberty.
Yes, I know this kind of info is VERBOTEN and in at least 17 western nations, posting this kind of truth would get me arrested, tried, convicted and tossed in jail.
That type of tyranny verifies what Mr. Ford has said about the JEW criminals.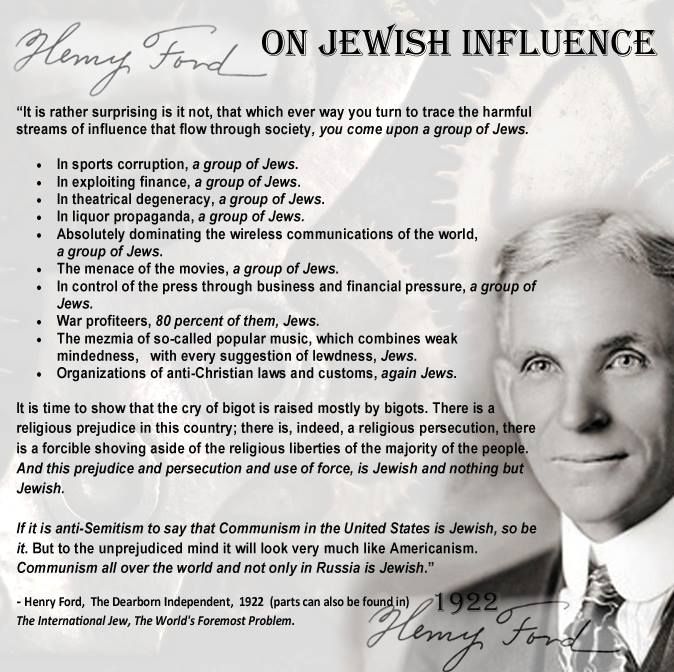 THE INTERNATIONAL JEW





CONTENTS





Foreword. Editor's Foreword





The Man. Henry Ford -- The Man





Chapter 1. Jewish History in the United States





Chapter 2. Angles of Jewish Influence





Chapter 3. Victims, or Persecutors?





Chapter 4. Are the Jews a Nation?





Chapter 5. The Jewish Political Program





Chapter 6. An Introduction to the "Jewish Protocols"





Chapter 7. How the Jews Use Power





Chapter 8. Jewish Influence in American Politics





Chapter 9. Bolshevism and Zionism





Chapter 10. Jewish Supremacy in the Theatre and Cinema





Chapter 11. Jewish Jazz Becomes our National Music





Chapter 12. Liquor, Gambling, Vice and Corruption





Chapter 13. The World's Foremost Problem





Chapter 14. The High and Low of Jewish Money Power





Chapter 15. The Battle for Press Control





Chapter 16. The State of All-Judaan
And it all goes back to the parasitic JEW Khazars that have and continue to
steal Palestine
and have taken over the central banking systems in the world; are in control of the vast majority of the world's MSM; are in charge of and treat the US Congress like a Paris brothel; control that imbecile in the WH and keep tricking frightened Americans into fighting 'Wars for Wall Street and Israel.'
Until we free ourselves of this dreaded scourge, we will never be free.