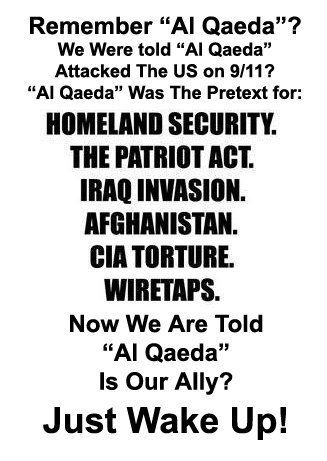 Lie by Lie: A Timeline of How We Got Into Iraq

Mushroom clouds, duct tape, Judy Miller, Curveball. Recalling how Americans were sold a bogus case for invasion.

On 9/21/2001, Bush briefed by intel community that there is no evidence linking Saddam to 9/11.
Going back to before we invaded Iraq, based on LIES, we have this:
The war in Iraq was conceived by 25 neoconservative intellectuals, most of them Jewish,

who are pushing President Bush to change the course of history. Two of them, journalists William Kristol and Charles Krauthammer, say it's possible.

This is a war of an elite. [Tom] Friedman laughs: I could give you the names of 25 people (all of whom are at this moment within a five-block radius of this office) who, if you had exiled them to a desert island a year and a half ago, the Iraq war would not have happened.

Source
Fast forward to now and we have various Jew rabble-rousers and war mongers pushing for more death and destruction in the ME, paid for by US blood and wealth.
Mainstream US Jews Writers Call for Supporting al Qaeda and ISIS

Sure, America's closest allies support ISIS.

And admittedly, the U.S. has repeatedly fumbled, so that arms got into Al Qaeda and ISIS' hands....

But now – for the first time – mainstream flacks are publicly calling for the United States of America to support ISIS and Al Qaeda …

Barak Mendelsohn – an Associate Professor of Political Science at Haverford College, a Senior Fellow at the Foreign Policy Research Institute,

and a five year veteran of the Israeli army

– argues in the Council on Foreign Relations' publication Foreign Affairs that the U.S. should support Al Qaeda … as a way to counter ISIS

Many mainstream players are suggesting that Al Nusra – the main Al Qaeda group in Syria – "re-brand", so that it can pretend it is moderate … and so receive direct U.S. backing.



Not to be outdone, influential New York Times columnist Thomas Friedman asks if we should arm ISIS to counter Iranian influence.
Wasn't the preeminent war monger Alan Dershowitz available for comment?
Or is he tied up, fighting against an indictment for pedophilia?
Next up, another Israeli FALSE FLAG, like the one they did to the USA on
9/11
, featuring Palestinians as the bad guys.