Poor widdle Israel, always being set upon by vile anti-Semites when all the Jews want to do is live in peace with their neighbors. Ha.
Looks like some American Christian churches, like Mennonite, Episcopal and Church of Christ are either debating disinvestment from companies that do business with Israel in Occupied Palestine or actually doing just that. The Mennonites finally backed out, but not the others and the Yids are yowling mad that their subjects in the American colony would have the nerve to

try and honor their Christian beliefs by just saying, "Never Again, We Will No Longer Be a Part of Your Apartheid!"
From an article in the
July 3, 2015 edition
of the KC Star (After jumping thru a hoop or two, finally was able to 'copy and paste' most of the article, first time the KC Star gave me trouble this way)
Good luck finding this news on the Jew MSM.
Churches Debate Pulling Investments to Fight What Some Call Israel's 'Occupation of Palestine'

Driven to help end decades of violence in the Israeli-occupied West Bank, a number of Christian churches in the United States have turned to a forceful tool: money.

More precisely, they're considering the message sent by boycotting and divesting from companies that seem to profit from Israel's military occupation in Palestinian territories.

Three faiths holding their national conventions this week — the 1.1 million-member United Church of Christ, the 2 million-member Episcopal Church and the Mennonite Church USA, whose convention is underway at the Kansas City Convention Center — have debated resolutions for divestiture and boycotts.



"Israel's military occupation of Palestine is sinful, based on injustice and must come to an end," stated one part of the Mennonite resolutions that spurred debate Wednesday.



"This resolution is not anti-Jew or anti-Israeli," declared Tom Harder, a Wichita Mennonite pastor. "This condemns violence on all sides, including the United States government support of it."

The Mennonite Church USA, which represents about 100,000 members in the United States, is the largest and most culturally modern branch of the Mennonite faith. Unlike the faith's more conservative branches, its members embrace technology and modern fashion. Some 4,400 members are in Kansas City through Sunday.

Its delegates on Wednesday ultimately opted against a vote on the divestiture resolution.

Its resolution, however, came only one day after members of the United Church of Christ meeting in Cleveland not only passed a resolution to divest and boycott, but also pinpointed specific companies that include Hewlett-Packard, Motorola Solutions, Caterpillar, G4S Secure Solutions and Veolia North America.

"It's about ending the occupation," Peter Makari, the United Church of Christ's executive for Middle East and European issues, said in a telephone interview. "It's a boycott and divestment and sanctions approach that is nonviolent and means to draw attention to the issue and hopefully leads to an end of the occupation."

In June 2014, another Christian denomination, the 1.8 million-member Presbyterian Church (U.S.A.), became the largest faith group at that time to make such a stand. It pulled some $21 million of investments from Caterpillar, Motorola Solutions and Hewlett-Packard.



Makari noted how in the late 1970s and 1980s worldwide divestment and boycotts were used as tools to help pressure the ruling white government in black South Africa to put an end to violent apartheid, the entrenched system of racial and social discrimination that effectively ended in 1994.



"If you look at the case of South Africa," Makari said, "a growing movement of divestment led to significant change."

A resolution asking the Episcopal Church to divest from companies associated with the Israeli occupation was discussed Thursday without final action. In explaining the background of the resolution, its text reads,

"The time has long passed when the Episcopal Church must recognize that it may well be profiting from the oppression of the Palestinian people who have endured 48 years of suffering under occupation."



It asks that the church align itself with the Board of Governors of the Church of England that in 2006 already stated that it would do the same.

The Jewish Council for Public Affairs on Tuesday immediately called passage of the United Church of Christ resolution "deeply disturbing."

"Sadly, however," its statement continued, "we are not surprised. In recent years, the UCC has been part of a chorus of churches that pin sole responsibility for the Israeli-Palestinian conflict on just one side — Israel. While neither side is blameless in the conflict, a position that assigns exclusive accountability for the continuation of the conflict to the Jewish state is deeply skewed and raises troubling questions."

Ethan Felson, senior vice president of the Jewish Council, said in a telephone interview that he sees an agenda less about peace or coexistence and more about questioning Israel's right to exist.

"There is a BDS movement that does not envision a world with two states for two peoples and advances a narrative and strategies that assault the legitimacy of Israel as a Jewish state," Felson said.

Critics of the movement worry that Christian denominations may legitimately promote peace but, perhaps unwittingly, play into a faulty narrative that undermines Israel's existence.

"If we want the parties to reconcile, we should model reconciliation," Felson said. "We should find a way to bring Israelis and Palestinians together. We shouldn't do things that will further polarize Israelis and Palestinians."

Divesting or boycotting certain companies such as Caterpillar, which sells heavy construction equipment, is also ill-conceived, he said, because it penalizes a company for playing a role it has no control over.



Images of Caterpillar bulldozers knocking over Palestinian homes in settlements flash on the international news.



Caterpillar spokeswoman Rachel Potts said that under the Tax Reform Act of 1976 and other laws, companies such as Caterpillar can be assessed severe penalties for taking part in boycotts not sanctioned by the U.S. government.

Also, its equipment is not sold directly to the Israeli military. It is sold to the U.S. government through its Foreign Military Sales program. It is the U.S. government that transfers those goods to Israel.

"Caterpillar does not sell to Israel," Felson aid. "Caterpillar does not weaponize, armor or maintain equipment for Israel. But (critics) use Caterpillar to portray Israel as a bulldozer so you will want to divest from Caterpillar. 'Let me show you this Caterpillar bulldozer doing this terrible thing.'"

But the faith communities insist that their resolutions are not meant to deny Israel's right to exist. In passing its resolution last year, the Presbyterian Church (U.S.A.) specifically stated that its divestment and boycotts were "not to be construed" as "alignment with or endorsement of the global BDS" movement.

Andre Gingerich Stoner, a director with Mennonite Church USA who consulted on the divestment referendum, said he spent time in Israeli-occupied territories last year. The resolution, he said, is a direct response to a 2009 document known as Kairos Palestine put out by Christian Palestinians asking for help.



"It really comes from the breadth of the Palestinian Christian Church: evangelicals, Pentecostals, Lutherans, Roman Catholics, Orthodox," Stoner said. "They speak in very, very clear terms about the suffering."





Stoner witnessed it.





"For me, what was new was experiencing the intensity of the occupation," Stoner said. "We're talking about a dividing wall that cuts farmers off from their olive orchards. We're talking about detention without charges. Just on and on and on."



He insisted that in considering the resolution, the church would not be taking sides.

"We're not pro-Israel. We're not pro-Palestinian," Stoner said. "We're pro-peace. We're pro-justice."
Wow, this is serious shit. Sounds like they're going to start acting like Christians and do what they can in a non-violent way to get Israel to shut down their Apartheid Nightmare in Occupied Palestine. Of course, the Jews response was predictable, let's talk some, then some more and then some more about 'peace,' and if we talk long enough, the problem will be solved, since there will no longer be a Palestine.
"Images of Caterpillar bulldozers knocking over Palestinian homes in settlements flash on the international news."

They do, which international news organizations show these brutalities?
The
"Foreign Military Sales"
program that got those Caterpillar bulldozers to Israel piqued my interest.
Their web page said that equipment "May be funded by country national funds or US Government funds." Funded by US government? Sounds like Uncle Sucker buys the bulldozers for Israel and then gives them away for free, which the feds do with weapons.
They have an
"Excess Defense Articles (EDA)"
file that has over 500 listings on an 'Excel' spreadsheet, and a generous number of that free equipment gets shipped to Israel. Surprised?
There's page after page of similar programs, so maybe we've found out what happened to that 8.5 TRILLION DOLLARS of money missing from the Pentagon? Don't be surprised if most of it would up in 'Stolenland.'
This is the last thing Peace Activist
Rachel Corrie
Saw Before Getting Squashed by an Israeli Jew terrorist operator in Occupied Palestine.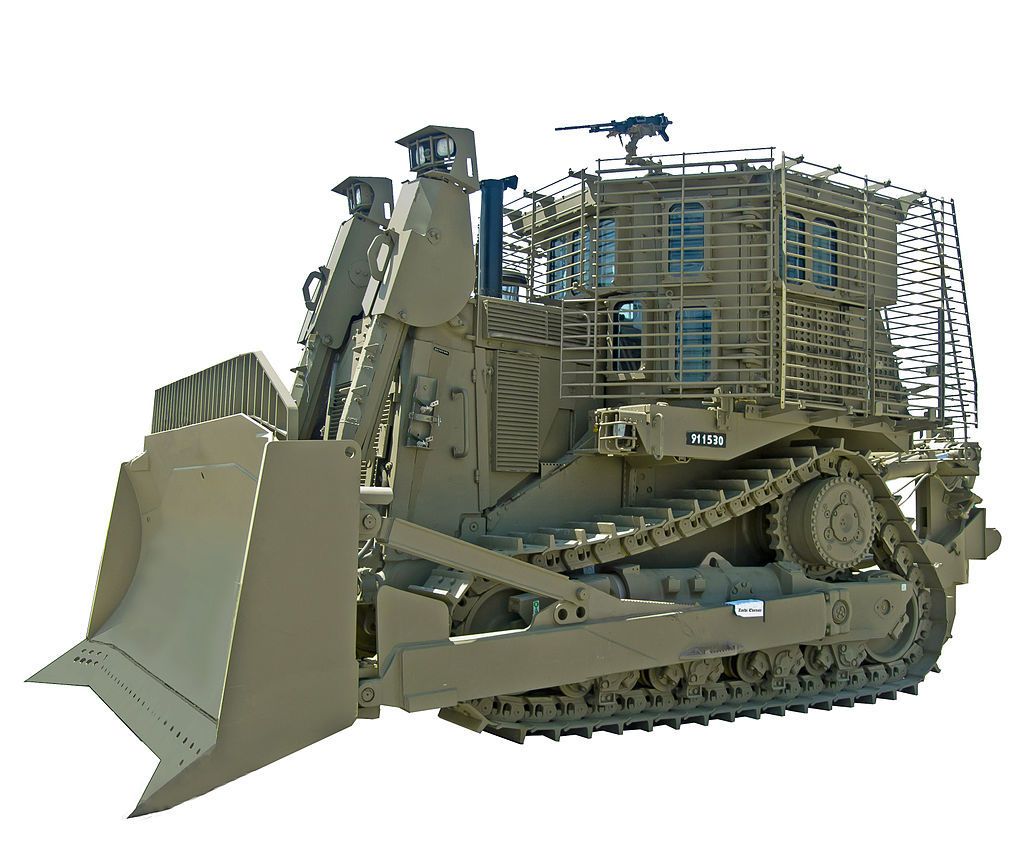 Does the program also turn those bulldozers into a

virtual tank, which can withstand explosive charges of up to 1/2 ton and keep on killing.
This might be possible thru the the
Defense Security Cooperation Agency,
which serves as an intermediary, usually handling procurement, logistics and delivery and often providing product support, training, and infrastructure construction (such as hangars, runways, utilities, etc.).
If they do all that, then turning bulldozers into war tanks with blades wouldn't be a stretch.
The head of this military 'welfare' program is VADM Joseph W. Rixey.
But second-in-command is Jennifer Zakriski. Uh-huh.