Israeli schoolchildren 'celebrating' Purim by celebrating the mass murder of thousands of GOYIM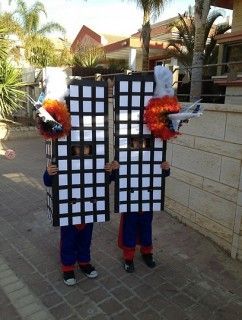 The Khazars like to celebrate their
holy
days by bombing or shooting or knocking down skyscrapers, or by getting their GOYIM flunkies in the USA, England, France or Germany to raise hell and kill a bunch of Muslims. Sort of a modern day blood libel.
Jew Inc got their petty tyrant, Bush the Younger to invade Iraq during Purim of 2003, but not to worry, some
rabid Rabbi
assures his Gentile slaves that "It will take some time before we reach the light side."
World Jewry tried and tried to get the USA to attack Iran, with their PM Nuttyahoo visiting Congress on Purim of 2015 and
telling lies about Iran,
hoping to scare America into again destroying another Muslim nation, but that didn't happen, despite tens of thousands of Israeli Jew children that prayed for the death of then-President Ahmadinejad of Iran.
Right, about the same time Syria is a pile of rubble and Iran is radioactive rubble, then
we'll see the light.
Just pray it's not light from a thermonuclear bomb, since Word Jewry tends to view all of us Gentiles as their ancient Amalek enemy, who've they've been sworn to murder to extinction.
Or get their GOY lackey's to do the dirty work while the Jew MSM slyly infers that Saddam was Hitler and Hitler was the reincarnation of some Amalek, Haman, which naturally gives the Kosher Seal of Approval to mass murder, as long as its those Goyim who are getting butchered.
Jew Inc has such a choke-hold on the West that the nefarious asshats at the CIA are going to start supplying surface-to-air missiles to the Israeli Secret Intelligence Service--AKA ISIS--in Syria. Watch for airliners to start getting blown up all over the world, and the Jew MSM will blame it on 'radical' Muslims and a shocked and horrified world will nod numbly in agreement.
Jew Inc also got a gift for their blood-soaked altar back in 1991, when the first 'Operation Desert Slaughter' was ending on that year's Purim. What a way to celebrate the destruction of Iraq, by using your twisted religion's unHoly Days to mass murder us Goyim.
In fact, Purim is probably the
Jew version of Mardi Gras,
with lots of drinking, celebrating and wearing of costumes in the street parties.
And by eating food that symbolizes the flesh of Haman;
"...two most famous are Hamantaschen, or "Haman's ears," and Kreplach. Hamantaschen are triangular-shaped dough pockets meant to symbolize Haman's ears and Kreplach are dough pockets filled with ground beef symbolizing the beaten flesh of Haman.
Does that sound rational or like some kind of food you'd like to eat? Me neither.
Silly me, thought holy days were to worship your God and learn more about loving your brothers like yourself.
When it Comes to Gentile Enemies, You Must Show No Mercy
Jews get very excited about Purim, when one of their heroes (honoring Esther) managed to go on a killing spree in Occupied Hebron:
Naturally, individual Jews like to get in on the slaughter of the Goyim, like 1994 Cave of the Patriarchs massacre. A large number of Palestinian Muslims had gathered at the Ibrahimi Mosque (also Mosque of Abraham), at the Cave of the Patriarchs in Hebron, West Bank when
Baruch Kopel Goldstein
entered and opened fire, murdering in cold blood 29 Palestinian worshipers and wounding another 125.
Goldstein got his just reward on the spot, as he got beaten to death by the survivors. But he is celebrated as a hero in 'Stolenland,' with a large, devoted cult of followers and this inscribed on his tomb: "He gave his life for the people of Israel, its Torah and land."
Now, if you think that all this grief the West is delivering to Muslim nations in the ME and Africa is for the benefit of Jew Inc, why you're some kind of Jew-hating anti-Semite and if you don't nod your head in agreement, the Jew MSM will keep blaring that until all their GOY slaves are in agreement.
These Purim inspired butchery's of ME and African Muslims for the benefit of Israel and Wall Street banks has done nothing to help the USA. In fact, just the opposite is happening, with millions around the world PO that we obediently go about satisfying
every bloody whim of Jew Inc overseas
, while edging closer to rounding up and jailing the American Muslims in the USA and soon, in Europe, which makes Israel and her rabid supporters very happy.
And don't even get me started on the USA's busted and broken infrastructure, which is closely approaching 3rd world levels, because we spend a lot of our money and resources either attacking and destroying nations Israel doesn't like or
giving more welfare money and free weapons to Israel,
while our vets, many of whom were horribly wounded fighting in these most recent 'Wars for Israel and Wall Street,' get told by the VA that they can't be seen by a doctor to treat their wounds for at least three months, while Israel gets oodles of cash.
Ask yourself this: Do you feel safer now, after all these wars for Israel than you did back in the Summer of 2001, before the
Israeli masterminded 9/11 False Flag
shook our very being? I don't.
Here's a closing thought: The Talmud says "if someone comes to kill you, you should rise up and kill them first," so should the indigenous Palestinians rise up and slay the Jew Khazar invaders?
Israeli PM Netenyahu gives Obama a copy of the Book of Esther
See how Israeli's teach their children to hate all non-Jews